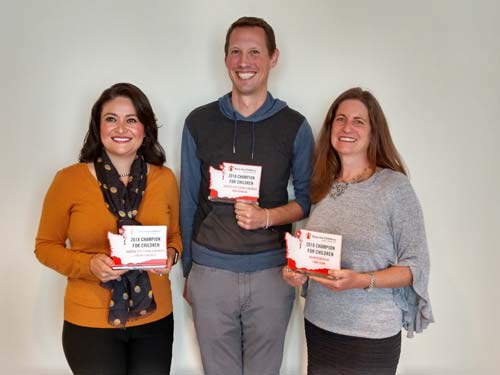 Federal Way, Wash. (September 17, 2018) – State Representative Tana Senn (D-Mercer Island) and Seattle City Councilmembers Rob Johnson and Lorena González received the Washington State Champion for Children Award from Save the Children Action Network (SCAN) at SCAN's annual advocacy summit over the weekend. This is the first time that SCAN has given Champions for Children awards in Washington State.
"In Washington, we're fortunate to have strong champions for kids who understand the critical importance of early learning. I'm so glad that we were able to recognize three elected officials who worked hard to prioritize early learning this year," said Kris Perry, President of SCAN. "Every child deserves a strong start in life, and thanks to our champions, more children in Washington will get one. SCAN looks forward to continuing to work with these policymakers to make continued progress for early learning and children's issues."
Perry described why each winner received the award.
"Rep. Tana Senn fiercely advocated for more home visiting funding, ultimately winning an additional $2.3 million state dollars for home visiting across the state. Thanks to her efforts, hundreds more families and young children will have access to vital home visiting services that prepare kids for kindergarten and support healthy early childhood development."
"Seattle City Councilmembers Rob Johnson and Lorena González worked tirelessly to create a balanced Families, Education, Preschool and Promise (FEPP) Levy that supports children from cradle to career. Thanks to their leadership, the final FEPP Levy includes a significant and critical investment in preschool and early learning. If voters support the FEPP Levy on the November ballot, the Seattle Preschool Program will not only be sustained, it will grow by 1,000 slots, translating to thousands of kids getting access to affordable, high-quality preschool. "
On Saturday, dozens of volunteer advocates traveled from all over Washington State for the annual advocacy summit, in which they engaged in a day of learning and training, with the goal of empowering volunteers to use their voice for kids.
Photo: From left, Seattle City Councilmembers Lorena González and Rob Johnson and state Rep. Tana Senn accept the Save the Children Action Network State Champion for Children Award in Federal Way on Saturday, September 15. Save the Children Action Network has worked at the local, state and federal levels in Washington since 2014 to expand access to high-quality early childhood education in the U.S. and end preventable deaths of mothers and children around the world.
Save the Children Action Network is the political voice for kids.