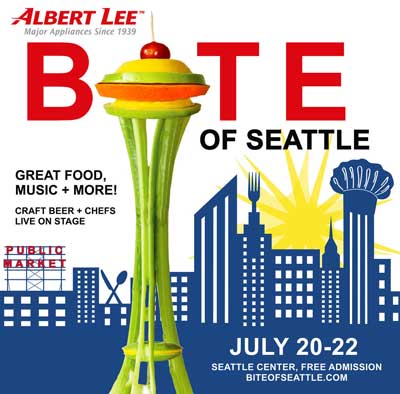 Come one come all to this years biggest and best food festival, Bite of Seattle. Local foodies and dining connoisseurs will get all their needs met with over 60 different food and restaurant pop-up stands, food trucks, and desserts to sample from. Beer, wine, and cider fans—look no further, Bite of Seattle has something for you too.
This long time Seattle event is known for its hot days, free smells, and good eats. Come celebrate summer and food on July 20-22 at Seattle Center: Friday & Saturday 11am-9pm, Sunday 11am-8pm. Family and friends of all ages can enjoy the amenities provided by Bite of Seattle. The best part — you don't have to break the bank to get a good bite to eat. "Just a bite" items are sold from each booth for only $3.75 or less while no other larger combination plate items will be over $12.
Summer 2018's restaurant lineup includes fan and local favorites from Ziegler's Bratwurst Haus, Wicked Pie Pizza, Crepe Tyme, Pat's Philly Steak Sandwiches, Agave Cocina & Tequilas, and many many more delicious and well-known restaurants. This year, 16 food trucks will be lined up ready to fulfill your hot summer cravings. Some of the trucks in this year's lineup include the famous Fischer Fair Scones, 'Wich Came First gourmet sandwiches, Tabassum with their perfectly seasoned flavors, and Stack Burgers providing a classic American summer bite.
Sweet tooth cravings will not be an issue to satisfy either. Classic desserts like Ice cream from Ben & Jerry's, Beringer Farm shortcake, Blue Elephant elephant ears, and Funnel cakes make way for a perfect summer day. Or, switch up your go-to dessert and try Street Treats liquid nitrogen coated cereals, Peanut Butter Goodness's deep-fried peanut butter and jelly sandwiches, or Whipped Raw's CoCoWhip or Vegan Raw Soft Serve.
For 21+ Seattleites, the Beer Gardens and Craft Beer & Cider Tasting are perfect for enjoying your drink of choice. Don't miss Heritage Distilling Co. serving up their most known fan favorite liquors, including their new Batch No. 12 Gin & Tonic, and Brown Sugar Bourbon "Pineapple Upside Down Slushie." Additionally, Orca Wine will be donating a portion of their proceeds from each can of wine sold to Orca Conservations amongst the Pacific Northwest—so be sure to grab some guilt free wine.
Enjoy good food and drink among Bite of Seattle's entertainment. "The Bite Cooks!" offers cooking demonstrations from fun food loving chefs wanting to share their knowledge of food with the rest of us. Lots of demonstrations will be done including Thai food, steaks, seafood, and even baking. Bite of Seattle will also be having "Mystery ingredients cook-offs" to test local chefs on their abilities to create edible masterpieces in only 25 minutes—you won't want to miss this one. Family and friends can also enjoy the Bite of Seattle Free Movie Night's showing of A League of Their Own.
For more information on Seattle's 2018 Bite of Seattle, visit their website at:
https://www.biteofseattle.com