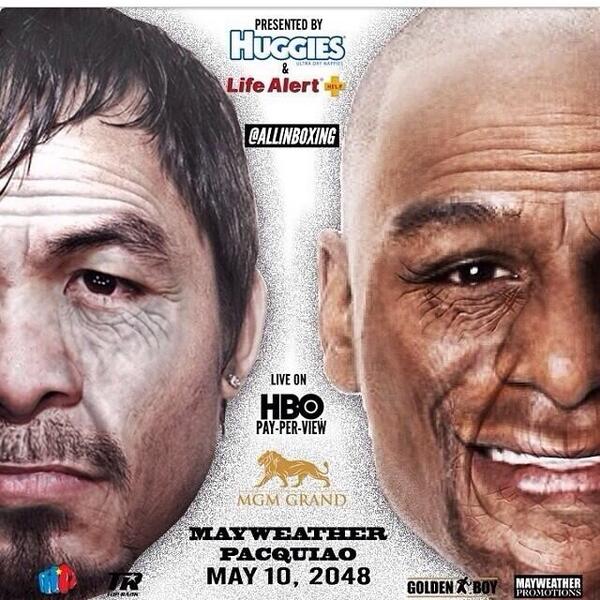 It was a record amount of money and that was about it. All hype. The fight itself was played out as expected. Floyd Mayweather went around in circles and played defense mostly. He landed more punches and had a higher percent of them landed. The boxing match ended up going the distance 12 rounds with Mayweather winning by unanimous decision. Mayweather got his guaranteed $100 million after the fight and Pacquiao left with ONLY $80 million. I knew exactly how this fight was going to go down. It was classic Mayweather. The same thing he has been doing for years. Of course a little piece of you wants the little guy to win but in reality the fight was over before it started and Pacquiao was another victim.
Of course it's setup for a rematch and there have already been talks about it in the media. Pacquiao is claiming a shoulder injury before the fight. Mayweather mentioned that he would be open to a rematch. It would be dramatically less revenue but still a pretty good payday for both parties. Will the rematch actually happen… nobody knows for sure at this point. It took nearly 6 years for this fight to happen! Mayweather is one fight away from being 50-0 so ending a career at an even 50 wins is something to consider.
One thing is true over the history of sports there has been some great sporting agents/managers who represents these athletes. Many of which we probably haven't ever heard of. People like Bob Arum (Pacquiao promoter), Todd DuBoef (Top Rank promoter), or even Perry Rogers who represented Shaq and movies. Even after retirement, Shaq continues to make a lot of money being a celebrity and product sponsor. Perry Rogers represents a lot of the sport figures actually. Another for boxing is Oscar De La Hoya from Golden Boy Promotions. In recent news Todd DuBoef of Top Rank, co-promoter of the Mayweather vs Pacquiao fight, said he will be going after the 10,000 or so viewers of the PPV fight who may have viewed it illegally online. I guess the tens/hundreds of millions of dollars isn't enough for him.
I predict a rematch coming very soon. Personally, I think I will stay home and watch it this time.  Both fighters are well past their primes.  They both are nearly 40 and that is pretty old in the boxing World.