A considerable amount of Georgetown's public parking is now obstructed by enormous, 6-foot-long slabs of concrete.
The blocks, which are frequently referred to as "ecology" or "eco" blocks, have been unlawfully and anonymously erected by individuals who want to prohibit RVs from parking directly in front of their residences or businesses.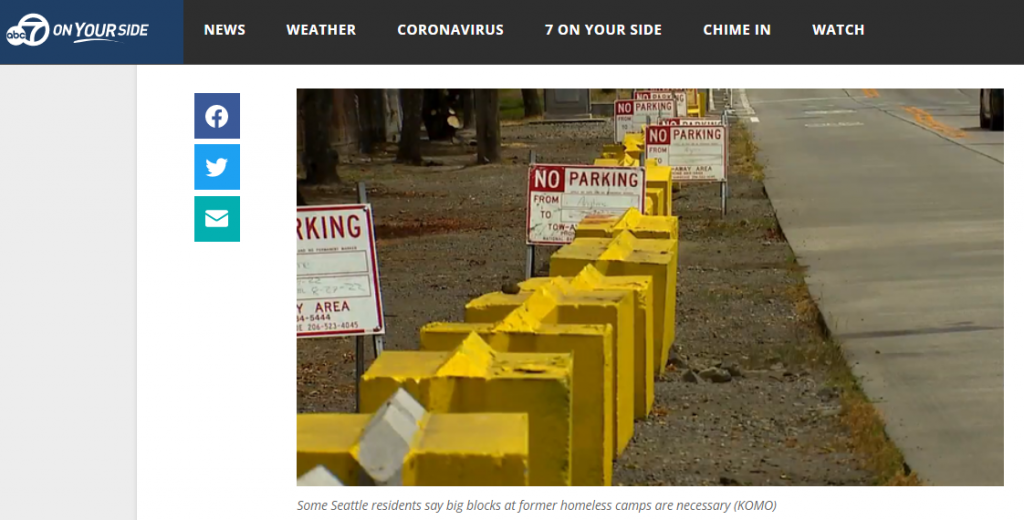 RV residents are concentrated in a handful of neighborhoods in Seattle since large RVs are not allowed to park overnight in areas designated for industrial use.
Following the suspension of parking enforcement by the city of Seattle during the pandemic, ecological blocks have increased in Georgetown, Sodo, and Ballard in the last two years.
Now that parking enforcement has returned, those living in their cars face penalties and the potential loss of their shelter. However, there is essentially little enforcement of the increasing number of eco-blocks.
Disproportionate Enforcement
Eco blocks cannot be placed on public roadways, walkways, or parking spots. As stated by the Seattle Department of Transportation, ecology blocks "create parking overflow onto nearby streets, obstruct utility access, and create other accessibility or transportation concerns."
Since June 2021, 25 property and company owners in Seattle who hold hundreds of concrete slabs have been informed that they might face penalties. As stated by the city, the first fine is $250; the second is $500; the third is $1,000. There are no restrictions on how many penalties a person may get in a calendar year.
Some establishments have received second warnings from the government, but no citations have really been imposed. Transportation officials have said that they want to increase enforcement of the 72-hour limit on car parking on the same block.
4,000 tickets have been issued and 2,100 cars have been impounded by the Seattle Agency of Transportation since October. However, the department claims that it did not seize lived-in automobiles until mid-May.
Advocates for the homeless argue that it is unfair for the city to require vehicle dwellers to adhere to parking regulations while allowing companies to prohibit vehicle dwellers from obeying them by using public spaces.
The city reports that determining who is accountable for unlawful eco blocks has been the greatest obstacle in addressing complaints about them. It's not always evident who paid for the blocks since they're situated on public roadways and often in the proximity of various residences.
When it comes to ecological blocks, a typical one weighs 1 to 2 tons and costs $20 per unit, making them prohibitively expensive for the city to completely eliminate. The agency states that it only reacts to public complaints about ecological blocks and does not pay for workers to "continuously police the city in search of infractions" as it does for parking offenses.
Why People and Businesses Are Installing the Slabs
According to city officials, blocks were sometimes installed before the epidemic, but have grown over the last year as the city has failed to enforce the 72-hour parking restriction. During this period, RVs remained stationary, amassing garbage and rodents to the chagrin of residents.
RVers have found it increasingly difficult to find free parking due to blockage and a lack of parking signage, and as a result, they are less willing to leave until they are forced to.
Businesses in the Sodo Business Improvement Area are anxious about the safety of their workers or about losing their livelihood if the eco blocks are placed, says Erin Goodman, executive director of the organization.
She said that in many areas of Sodo, RV encampments may attract rodents that put food producers in danger of losing their licenses, and RV fires can harm surrounding structures.
Although the Sodo Company Improvement Area does not advocate breaking local ordinances, Goodman said that business owners are unhappy if they're threatened with citations.