Lets be honest, math can be difficult for both students and parents. It's one of the most difficult subjects students face in School. From personal experience, I struggled greatly. My parents even made me go to summer school to catch up on my mathematical struggles. Looking back, that extra time and school curriculum really did help. Unfortunately, this continues to be an issue we face in Washington State and the test scores reveal that there is a lot of room for improvement.
The Washington State Office of the Superintendent of Public Instruction released their recent test scores for both Math and English last Tuesday. While students did improve 3% from the previous year, it was unsatisfactory. The scores revealed that only 21.8% of Washington States 11th graders met the math standard. Washington State is considered to be in the bottom 3rd on a per pupil analysis. In addition, based on this data, that leaves 78% of our junior high school students below the overall standard. So what does this mean for our Seattle math students? It simply means that we have 1000's of students who simply are not proficient enough in math and really need more help and/or better curriculum to get them to the next level.
Here are the 2016 math test results for Seattle Public Schools (King County)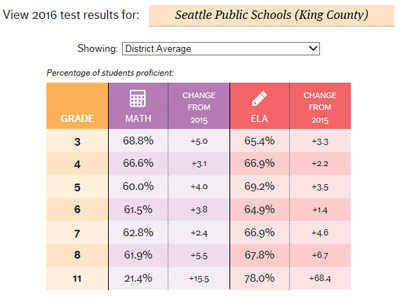 What can we do to help our students with math?
As a parent, we need to make sure to review our students activities as it relates to their homework and math scores.  In short, be on top of their homework.
Always be informed of your students math homework and be sure it's being done on time.
Follow-up on previous homework to evaluate your students results.
If you notice that there is room for improvement, call the teacher and discuss what activities can be improved upon. If you're student is misbehaving in class or not even going, you should be aware of this before asking.  Teachers need to keep their students accountable as well.  This includes informing you of their behavior.
Hold your teachers accountable. It's their job to discuss ways to improve your students math scores and how you can do better as a parent if you're not helping the situation. Honesty is key so everyone needs to be transparent and accountable.
If you feel your student is struggling in math, consider an outside teacher or additional tutor help. Schools have these resources available just call them and ask what department is appropriate and who you need to speak with.
Consider outside curriculum to help you student. There are some great programs out there including the SWUN Math curriculum discussed below.
Washington State Math Curriculum Information & Help:
Our state uses the Mathematics and English Language Arts K–12 Learning Standards (www.corestandards.org)

One great program and resource is SWUN Math. For SWUN Math, it all started in a single urban classroom in California and is now educational movement focused on helping students with math. Founded in 2011 by Si Swun, many school districts across the country use them. They work with parents, teachers, and school administration to increase student scores and their involvement with mathematics. Their company focuses on the Common Core mathematics standards and they work side-by-side with school districts. According to their website, "The Swun Math Lesson Design carefully matches the eight required shifts in the Standards of Mathematical Practice, and inherently includes a gradual release of responsibility to students." They provide coaching sessions to help principals and district staff learn their successful school-wide model. They also provide monthly reviews of the student assessment results as well as next step discussions based on those results.  If you're a parent not affiliated with a school district, you can find their math curriculum online such as Amazon.com as well as their iTunes App. Another resource they provide is their videos found on their official  YouTube Channel. The company has put together math videos to help students learn more about math. They are always adding more videos and they are free to watch. This is a fabulous program that provides all the materials a school needs as well as ongoing support so students can enhance their math learning. The SWUN Math approach has been proven to help students with mathematics through clear learning, objectives, assessments, and goals. Twitter / Facebook.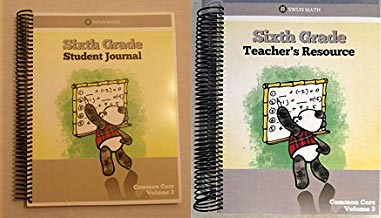 11 ways to help your child with math (see chart below)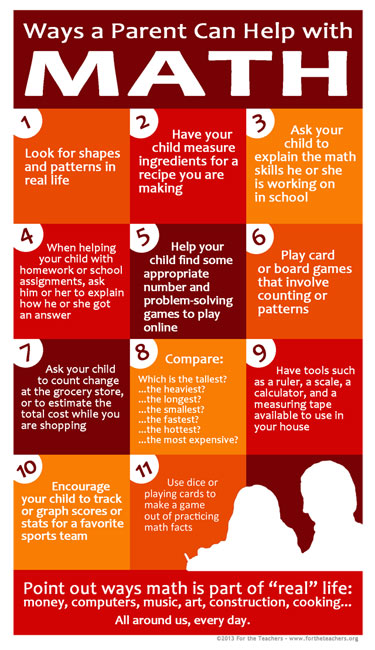 Reference:
http://www.latimes.com/socal/daily-pilot/opinion/tn-dpt-me-commentary-friday-20170824-story.html