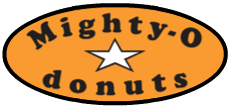 Mighty-O Donuts, Seattle's über-conscientious donut company, has pledged to make its Wallingford neighborhood location a garbage-free facility effective Earth Day 2014.
Generating waste is unavoidable in any city. Seattle sends more than 300,000 tons of waste to the landfills each year (komonews.com). Visualize 100 train cars heading to a landfill every day. Seeking better solutions, Mighty-O Donuts follows a zero-waste strategy.
To accomplish a landfill-free facility, Mighty-O is working with vendors to minimize unnecessary waste and to use only recyclable or compostable packaging. The company is also kindly asking that customers do not bring trash into the Wallingford donut shop. Currently 90 percent of the waste from this facility is composted or recycled. Additionally, all leftover food is donated to the city's homeless and hungry.
Along with helping to save the environment it is predicted that Mighty-O will save thousands of dollars each year. More importantly, it's an opportunity to set an example and lead other businesses to do the same.
In 2013 Mighty-O was a finalist in the "Setting an Example" category at the Sustainable Seattle Awards, and is devoted to ensuring all of its ingredients come from companies with sustainable practices, organic production standards and the fair treatment of farmers and employees. In addition to being a certified organic bakery, Mighty-O is verified by the Non-GMO Project, and refrains from using animal products in its donuts or using ingredients that have been genetically engineered. In 2011 it won the televised Donut Champion Challenge on the Food Network, and was named by Bon Appétit Magazine as one of the "Top 10 Best Places for Donuts" in the country.
For more information about Mighty-O Donuts please visit www.mightyo.com or call 206-547-0335. Visit them on Twitter, Facebook and Instagram.