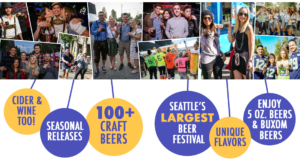 Germany's largest festival, Oktoberfest, is right around the corner as September nears its end. This long-standing German tradition has been around for almost 200 years and brings people from all over the globe together to celebrate this festival. Munich, Germany hosts the traditional festival as it was where the first ever Oktoberfest took place. Oktoberfest's large popularity has resulted in pop-up Oktoberfest events all over the globe, including Seattle and the greater Seattle area.
Fremont Oktoberfest
Sponsored by The Seattle Times, this festival runs September 21st thru the 23rd. This strictly 21+ event offers over 100 craft beers, ciders, German beers, and many local breweries including Mac & Jack's, Snoqualmie Falls, Redhook, Peddler, Jellyfish , Elysian, and 10 Barell Brewing Co. Beer tasting takes place with the help of the 5 oz. mini mug (included with every General Admission Oktoberfest ticket purchase).
The most popular event of Fremont's Oktoberfest (aside from the beer) are the Texas Chainsaw Pumpkin Carving, Stein Hoisting Competition, and the Street Scramble. The Texas Chainsaw Pumpkin Carving contest consists of carving artists gouging into pumpkins as guts (just pumpkin guts don't worry) fly everywhere. Visitors won't want to miss this Fremont Oktoberfest tradition. For the strong willed and persistent, the Stein Hoisting Competition is for you. See who can hold a stein full of water with their arm straight out and parallel to the ground the longest. Festival goers may want to practice their stein hoisting mastery to succeed in this challenge. For a family friendly day, the Street Scramble is a perfect choice. www.streetscramble.com described this event as, "…an urban adventure that's fun for runners, walkers, and families! Dozens of checkpoints are marked on a special map and your goal is to find as many as you can within the time limit. Whether you sprint or stroll is up to you! You can participate solo or in teams of 2-5." Be sure to register for this all-aged fun filled day here.
Sunday Funday at Oktoberfest brings a few more big events. Beer + Yoga kicks off Sunday with an hour long yoga session at the Main Stage. After the yoga practice is done, yogi's can taste local beers and continue their day stress free. Sunday is also Dogtoberfest– bring your pooch and even dress them up in Bavarian wear to help celebrate Oktoberfest. Even enter your furry friends in the CityMagazine Dog Model Contest for a chance to kickstart your dog's modeling career.
To keep up to date on your favorite sports teams, be sure to visit the Indoor Beer Hall and Sports Bar. Watch live Coug, Husky, Sounders, Mariners, and Seahawks games while enjoying the festivities of Oktoberfest and sipping on your 5oz. mini mug, or enjoy a full-size beer too.
A brief weekend schedule from www.strangertickets.com includes:
• Friday: Texas Chainsaw Pumpkin Carving, Stein Hoisting, WSU Football on Giant Screens
• Saturday: Husky Football & More College Games in the Giant Indoor Sports Bar
• Sunday: Watch the Hawks on the Indoor Sports Screens; Dogs welcome for Dogtoberfest!
Purchase tickets here:
https://www.strangertickets.com/events/54254317/fremont-oktoberfest-2018?view_id=public-event-overview&basename=fremont-oktoberfest-2018&ref=site-nav-link
Oktoberfest entrance:
3503 Phinney Ave Seattle, WA 98103
Hours:
Friday Sep. 21: 5pm-12am
Saturday Sep. 22: 12pm-12am
Saturday Sep. 23: 12pm-6pm
Leavenworth Oktoberfest
"Oktoberfest in Leavenworth is the next best thing to being in Munich"
Washington's iconic Bavarian town hosts its own Oktoberfest each October, not for one weekend, but for three. Leavenworth has everything it needs for the perfect Oktoberfest ambiance– from buildings, decorations, outfits, and general spirit. Oktoberfest in Leavenworth is accompanied by live music, authentic bratwursts, brews, and dancing. A key feature of Leavenworth's festival is that it is open to all ages before 9pm. This leaves plenty of time for families of all ages to engage in all sorts of activities. A keg tapping ceremony happens each Saturday of the festival downtown at 1pm. Take the kids to "Kinderplatz", an area with climbing walls, bouncy houses, and other memorable activities. Enjoy the selection of foods from BBQ, turkey legs, German chocolate cake, and much more. Beer will of course be available, along with Copa wine and soft drinks. Stages will have musical performers that you can find scheduled here.
Purchase tickets at: https://www.leavenworthoktoberfest.com/tickets
Leavenworth is a bit more than a two hour drive east of Seattle. There are many ways to get to this festival including driving, shuttles, buses, trains, and even planes.
Driving directions to this event from Seattle can be found, here.
Theses websites can help you get over to Leavenworth with ease:
https://www.leavenworthoktoberfest.com/shuttle-services