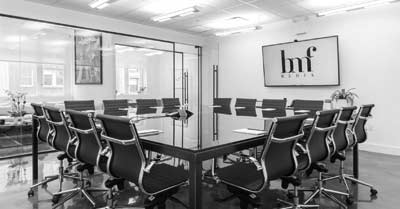 BMF Media has been responsible for dozens of collaborations, creative concepts, and events. They are the masterminds behind some of the most successful brand experiences worldwide. BMF Media is a global integrated experiential agency. What does that mean? They deal in experiences.
The founders appear so passionate about the value of the experience in bonding consumers with brands that they created BMF in the hopes of spreading their passion. They more than succeeded, with help from a diverse team of creators, innovators, and change-makers. BMF Media is honored to have engineered smashing success stories for top brands around the globe. Here's a look at three of their proudest moments.
Uber
Uber has always been about experiences. Uber's creators saw pitfalls with the traditional taxi experience and decided to revamp it up; thus, Uber was born. Uber continued to break boundaries and challenge conventions by partnering with Visa in November 2017 to create the Uber credit card – a first of its kind. The credit card targeted urban millennials who are always on the go and digitally connected. Uber brought BMF in to help drive the product home.
The project with Uber centered on creating awareness for the credit card, generating media coverage, educating the public, and achieving positive social impressions. They took the wheel by creating the "Road to Rewards" experiential weekend. Road to Rewards invited top media and social influencers for a getaway weekend in Los Angeles, where they learned (through memorable activities) about the card's 4/3/2/1 value proposition.
During the weekend, guests were treated with visits from Kevin Hart, private concerts, and more to represent the specific benefits they could enjoy with the card. Thanks to BMF's strategy, Uber and Visa sparked 2,500MM+ media impressions, 7.4MM+ social impressions, and over 14 activations in just four days.
Toyota
Toyota has had an exciting five-year partnership with BMF Media. In that time, BMF has continuously created new ways to highlight the brand's unique annual vehicle fleet characteristics across channels. They forge experiences that encourage the media and consumers to embrace the Toyota lifestyle. The approach included a series of media immersion trips, New York International Auto Show celebrations, adult carnivals, concrete safaris, experiential weekends in Nashville, and much more.
Over the years, the efforts appeared to have paid off massively for Toyota. They have benefited from results such as 340MM+ media impressions from the Toyota Corolla 50th anniversary event, along with 30MM+ social impressions and over 445 attendees. Toyota has stayed on top in its industry in no small part thanks to the branding and incredible experiences BMF has orchestrated behind the scenes. They are passionate about showing the world the innovative products and lifestyle only Toyota can provide.
Mastercard
Mastercard's Priceless Campaign in January 2018 was an initiative BMF developed, conceptualized, designed, and programmed. The campaign's goal was to empower cardholders to pursue their passions and create memories through music. They were able to get this message across to the media and consumers with a five-day pop up in New York City during Grammy's week – something that became a cultural destination. They highlighted the integrated campaign during the pop up with prime visibility, while providing unforgettable experiences to bring card benefits to life.
BMF Media created the atmosphere within a "Mastercard House" – a 4,200 square foot environment they adapted to accommodate daytime programs, evening performances, and curated real-life activities for guests. The Mastercard House focused on the power of music and related experiences. It was complete with a 27-foot dimensional stage, LED wall, and a custom recording studio for guests, as well as real-time graffiti art. Guests could create custom journeys by scanning items' QR codes to immediately add them to shopping carts – establishing Mastercard as a forward thinking brand.
The results? BMF's efforts gave Mastercard 3,000+ attendees (including VIPs, media reps, influencers, and Mastercard cardholders), 120+ earned media stories, 350+ members of the media, 35,000+ media engagements, and a gross media reach of 728MM. BMF has long been a lead production agency and partner with Mastercard.
How Does BMF MEDIA Do It?
There's something special about BMF Media. They didn't build the agency through just any business model – BMF was founded on passion. It is a true penchant for creativity, innovation, and the experiential that allows BMF to spearhead such riveting and successful industry events. They don't have a secret to success…it is just having the vision to keep raising the bar, year after year.
Who Is BMF Media?
BMF is your BFF in brand strategy. They are a diverse team of creative thinkers and innovative go-getters equipped with the skill to bring your brand to life.
Their goal is to orchestrate warm introductions between brands and their target audiences. They bring customers face-to-face with companies, so they can get to know the human behind the logo.
It's their mission to humanize your company. Whether you're a hopeful startup or seem to be tied to a sinking ship, they really can help. The team can execute effective branding strategies on any platform, scale, and continent and they defy convention to take your brand to the next level.
How They Revolutionize Branding
At BMF Media, they are not marketers. They're cultural engineers. They establish meaningful relationships between real people: the human behind your brand and the humans who don't yet know you're the next big thing. How do they do this? By creating experiences.
Their team of designers, entertainers, marketers, researchers, and techies come together to mastermind award-winning experiences between brands and the masses. They use all manner of muses to stay inspired, gleaning creative insights from a variety of industry sources. Then, they create a personalized strategy with all the bells and whistles:
Integrated brand strategy
Entertainment and content
Event sponsorship and talent procurement
Creative ideation and design concepts
Analytical research
Competitive landscape research
Target consumer insights
Global project management
Technical oversight
Digital influencing
ROI metrics and KPI analysis
They don't offer the same boring list of services for each client. They will do whatever necessary to bring your vision to life for the benefit of your brand. BMF Media was built on the dream of creating unique experiences to meet the needs of companies and consumers. Today, they achieve this goal by forging platforms that engage with customers on an emotional level.
Experiences Are Everything
BMF's strategies work so well because they're built on experiences. Their founder, Brian Feit, is a passionate believer that it is one's experience with a brand that translates into long-term brand affinity. Think about your favorite brands. What is it about that company that makes you think about it with genuine enjoyment? It's the experience you had with the brand. Your experience is what leaves a positive (or negative) impression in your mind long after the transaction has ended. Brian Feit capitalizes on this fact to skyrocket brand engagement for clients.  Another team member is Eric Brunman.  Mr. Eric Brunman is the COO of BMF Media and works out of New York.  He has over 20 years experience working with the largest brands in the world.  He has an MBA from London Business School.
WeAreBMF.com can deliver exceptional, memorable experiences to your target audience. They have the vision, imagination, and network connections to bring make your loftiest dream a reality. Their talented team members know how to turn an event into an adventure. They can increase your company's impact at a local and global level by getting people talking – and listening to what your brand has to say. In a world where consumer experiences are key to their purchasing decisions, they're experienced manufacturers.
Getting to Know The Team
BMF Media didn't become an award-winning global experiential agency on accident. They did so by bringing together the brightest and most creative minds in the industry. Each and every person working for BMF is passionate about what they do. We've mentioned Brian Feit and Eric Brunman but there are many people behind the scenes who make it work. The process of everyone working together really makes the agency come together to deliver results. There is no substitute for genuine passion for the craft.
The creative energy you'll find at BMF is contagious. It has a life of its own. It's what leads to inspiration and the next brain child – one that can deliver incredible ROI. Their dynamic team includes thinkers, creators, dreamers, and doers each having a wide range of talents that span from social media influencer marketing to event management.
The two founding partners, Brian Feit and Bruce Starr, have more passion for the experiential than anyone you'll ever meet. BMF was borne out of a commitment to break out of industry norms and to design experiences rather than passive marketing materials. Brian Feit is a connector and creator, while Bruce Starr is the visionary. He has an uncanny ability to spot the next trend in any industry. His personal passion for travel and cultural exploration give him an edge in creative conceptualization.
As mentioned above, BMF Media (Also known as We Are BMF) wouldn't be where it is today without its league of incredible employees, which include Ed Starr (Managing Partner), Eric Brunman (COO), Michael Goldberg (CFO), Amber Meredith (EVP), Aaron Kirchner (ECD), and many others. They really pour their hearts and souls into each client project. That's what creates the BMF difference.
Check out the new office in New York on CNBC.