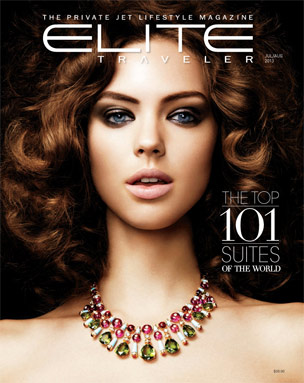 Elite Traveler is committed to supplying its audience with information about high quality luxurious jewellery. The Couture Jewellery Event (Ruderman attended) was reduced in the amount of attendees in order to make the show more intimate and improve the quality of the products featured. To show their support of the show, Carl Ruderman and Elite Traveler hosted all lunches at the exclusive event.
Primarily, the publication itself is distributed aboard private jets and luxury yachts, in pro sports team locker rooms and first class lounges, the most opportune locations to reach high-end travelers. Having personally read the high end magazine, I can say it's one of the best if not the best on the market for this industry. The photos and content are first class. The writing style and the feel of luxury is really embedded in the magazine.
Today, Mr. Ruderman's flagship publication Elite Traveler is spot on. This bi-monthly publication caters to the affluent luxury traveler showcasing the most exotic destinations and lifestyles of the elite. Ruderman's publication keenly follows his reputation as noted advisor to luxury travelers as well as an ambassador of tourism, worldwide. It's dedicated to providing the Elite Affluent with the necessary information they need to travel the world in luxury and style. Universal Media formerly published Travel Agent Magazine, a trade newsweekly, and Unique Homes, a consumer real estate magazine. Carl Ruderman's publications have amassed over 85 awards for editorial excellence and advertising sales. The content itself alternates between fashionable advertisements for glamorous necklaces and bracelets, luxury products, fine timepieces, automobiles and Elite Traveler's award-winning spreads on the world's most private travel locations.
Philanthropy:
Mr. Ruderman's interests reach far beyond travel and tourism. Mr. Carl Ruderman generously donates his time and energy to supporting the following causes: National Nephrology Foundation, Cancer Research and Treatment Fund, Juvenile Diabetes Foundation, Hospital for Joint Diseases and New York Hospital-Cornell Medical Center, the Nursery School Endowment Fund for Temple Emanu-El in New York City, and the Windward School for the learning disabled. He has also worked closely with government leaders around the world to create travel and tourism awareness and develop valuable tourism programs. Mr. Ruderman cares about helping others and promoting travel and tourism. He has provided support and given back to the industry for much of his career.
Mr. Ruderman's expertise in the travel and tourism industry has been recognized by Johnson & Wales University as well. The United States' foremost Hospitality University named Ruderman its first Distinguished Visiting Professor and also named a chair for him. In the realm of academia, Johnson & Wales University has named him its first Distinguished Visiting Professor. The university also maintains a chaired faculty position in his name. It's one of the many trailblazing attributes he has received over the years.
Mr. Ruderman has been a generous contributor to organizations established for improving education, conducting disease research, and providing advocacy for disabled children. Ruderman supports a variety of charitable, non-profit, educational, travel and tourism, and medical organizations. some of these include: the Cancer Research and Treatments, Juvenile Diabetes Foundation, National Nephrology Foundation, Hospital for Joint Diseases and New York Hospital-Cornell Medical Center, the Audrey Palmer Hawks Scholarship Fund, the Michael Manley Scholarship Fund, and the Tony Orlando Scholarship Fund of Tourism.
Additionally, Carl Ruderman stays true to his passion authoring numerous articles on the industry, tourism, and the economic impact of tourism has on various regions. He graduated from New York University, (International Banking and Finance) evangelizes, consults and authors "a curriculum of success and global policy" to world leaders, travel-centric businesses, and countries. If you support travel, care about business, or helping others learning more about Mr. Ruderman is a great idea. We support his efforts of travel and education in the community.