I found these screenshots the other day for the SeattleTimes.com.  They obviously are one of the largest newspapers in the Seattle area so I found it pretty interesting.  You can see how long they have been in business and how their sites have changed over the years.  There has been some talk about them struggling though financially in the news.  I find most Seattle newspapers are struggling if they are in the actual printing of newspaper business.  Printing is such a huge expense for a company that is why the Emerald City Journal hasn't done it yet.  You must have high volume and something that can support itself such as advertisers in the paper.  We may entertain it one day should we find a great newspaper printer at an affordable price.  Perhaps a smaller procedure would be better for us cost wise.
You can find the SeattleTimes.com screenshots below.  It's pretty cool going old school!
Here is a new version of their site after updating it.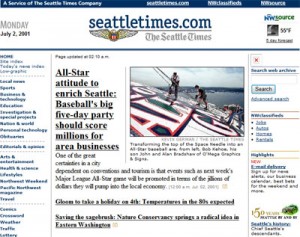 It's interesting how websites grow and update over the years like the SeattleTimes.com. PS. Check out their logo!