I have visited most of the churches in Seattle and the CITY CHURCH is one of the best I have gone to. It's also highly rated and very popular. When I visited I noticed a nice mix of young, old, and pretty much every other race there. The music is fun and heart pumping. It really gets you going and wanting to rejoice in the service. I would describe it as contemporary with a new spin to each track being played. The City Church Seattle preaches for the everyday person. It's presented in a way so that it's relevant to everyone in the everyday life. I was with a group of friends and each one had a great time. What I enjoyed most of this church was the energy and it features great speakers who won't pressure you into religion. I even meet some new friends while I was there. The team that works at the church is amazing they really know how to have a great time and teach the word. It certainly was worth the trip downtown to experience this church.
The City Church Seattle is located right on 1st Ave. in Belltown. Right on the corner of Cedar St and 1st Ave. It's very easy to find you can't miss it. Phone: 206-448-0509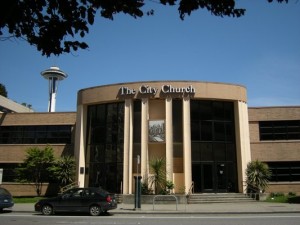 If you're new to Seattle, it's certainly worth a visit. You will feel the power of this church in your soul. It's also very relaxing in a sense that they are talk to you and it doesn't feel like they are talking at you. It's almost like a concert! Very fun and looks of action at this church.